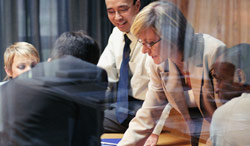 Our Firm
Our Firm
The purpose of this service is to consult with individuals to determine their personal and financial goals and design strategies that will enable them to achieve those goals. This process is facilitated through an initial evaluation, the gathering of necessary financial data and using that information to devise plans appropriate to achieve the client's personal and financial goals.
We assist our clients in the implementation of their plan, monitor the progress on an ongoing basis and assist in plan modifications based on events that transpire which may alter the original strategy.
Financial planning is an ongoing process that evolves with you as your needs change. We want to be there to help guide you throughout your journey.
For more information about Financial Planning Consultants, LLC, please contact a principal at (408) 287-7911 or by email at info@fpcllc.com.
Whether it's planning for retirement, funding a child's college education or forming a strategy for wealth accumulation and preservation; we all invest with specific goals in mind. Financial Planning Consultants, LLC (FPC) teaming with our strategic alliances, will work with you to create, implement, and monitor a personalized dynamic investment strategy.