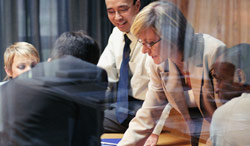 Our Firm
Management Team
The principals at Financial Planning Consultants, LLC all share a common desire of doing everything they can to help our clients become highly successful and achieve their goals. Each principal's educational and professional expertise has earned them a place at the top; but more importantly, the commitment they show to their families and a dedication to making the community we live in better keeps them there, year over year.
Click on the principal link to learn more about their contribution to making FPC successful.
Whether it's planning for retirement, funding a child's college education or forming a strategy for wealth accumulation and preservation; we all invest with specific goals in mind. Financial Planning Consultants, LLC (FPC) teaming with our strategic alliances, will work with you to create, implement, and monitor a personalized dynamic investment strategy.