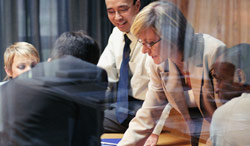 Our Firm
Management Team
Edward Davis
edavis@ppandco.com
Mr. Davis is a Principal with Financial Planning Consultants, LLC, which along with its strategic alliances, Legacy Capital and Hillis Financial Services, provides consulting and investment management services to individuals. In addition to being a CPA Ed holds both Life Insurance and Securities licenses (Series 66 and 7).
Ed received his Certified Public Accountant license from the state of California in 1990 and became a partner in 1997. He is responsible for providing audit and accounting, tax and business consulting for closely held businesses, their owners, and their families.   Government taxing and regulatory representation before the I.R.S., California F.T.B., State Board of Equalization, Employment Development Department Investigations and analysis for attorneys and other clients regarding discovery matters
Ed is a member of the California Society of CPA's and the American Institute of Certified Public Accountants.  He currently serves on the Board of Directors of PrimeGlobal North America and is chairman-elect for 2010. His community activities include serving on the Board of Directors of  Thomas Cowan Bell Scholastic Foundation, is a past Chairman and serves on the Board of Directors for the Bay Area After-School All-Stars, is a member of the Bellarmine College Preparatory Dads' Club Board and the Bellarmine College Preparatory Development Committee.  Ed holds a Bachelor of Science degree in Accounting from San Jose State University.
Services

Audit, tax, and business planning for clients involved in closely held businesses
Preparation of reviewed an d audited financial statements for corporations and partnerships
Preparation of income tax returns for individuals, corporations, partnerships, and fiduciaries
Income and estate tax planning for individuals
Mergers and acquisitions consultation
Consultation regarding accounting and auditing issues
Accounting controls and systems implementation consulting
Golf Course cost allocation
Government taxing and regulatory representation before the I.R.S., California F.T.B., State Board of Equalization, Employment Development Department
Investigations and analysis for attorneys and other clients regarding discovery matters

Professional Affiliations

American Institute of Certified Public Accountants
California Society of Certified Public Accountants
PrimeGlobal North America, Board of Directors, Chair-elect

Community Activities

Bay Area After-School All-Stars, Board of Directors, past Chair
Thomas Cowan Bell Scholastic Foundation, Board of Directors
Bellarmine College Preparatory Dads' Club Board of Directors
Bellarmine College Preparatory Development Committee

Education & Professional License

San Jose State University Bachelor of Science in Accounting, 1985
Certified Public Accountant, State of California, 1990
Life Agent
Securities license (Series 66 and 7), securities registrations held with NFP
More than 500 hours of continuing professional education