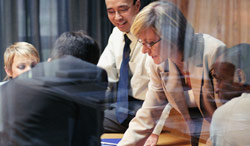 Our Firm
Management Team
Marc G. Parkinson, CPA/PFS
marc.parkinson@lpl.com
Mr. Parkinson has extensive experience working with closely held businesses and high net worth individuals, with an emphasis on planning and profitability. He specializes in succession planning and wealth transfer for individuals and family businesses. Marc has a PFS designation from the American Institute of Certified Public Accountants and in addition to being a CPA holds both Life Insurance and Securities licenses (Series 66 and 7).
Mr. Parkinson has been with Petrinovich Pugh & Company, LLP since 1979 and became the managing partner in 2000. He has a degree in Economics from Santa Clara University and a Masters in Business Administration from the UCLA's Anderson School of Management.
He is a Principal with Financial Planning Consultants, LLC, which along with its strategic alliances, Legacy Capital and Hillis Financial Services, provides consulting and investment management services to individuals.

Education & Professional License

University of California, Los Angeles, Anderson School of Management, 1977, MBA with Finance and Accounting concentration
Santa Clara University Bachelor of Science in Economics, 1975
Certified Public Accountant, State of California, 1980
Personal Financial Specialist, 2005
FINRA Series 7 and 66 Certification, securities registrations held with NFP
Life Insurance license

Employment History

Financial Planning Consultants, LLC, 2005 to present, Principal
Petrinovich Pugh & Company, LLP, 1979 to present, became Managing Partner in 2000
Accountant with Price Waterhouse & Company 1977 to 1979

Services

Net-worth review
Goal setting
Asset allocation analysis
Investment performance evaluation
Estate and income tax overview
Risk tolerance assessment
Insurance needs analysis
Overall special needs analysis
Succession planning and wealth transfer for individuals and family businesses

Professional Affiliations

 American Institute of Certified Public Accountants-council member and on their executive committee of the PCPS (Private Companies Practice Section)
Chairman, California Society of Certified Public Accountants, June 2006 to 2007
California State CPA Society, Board of Directors, 1995 to present
San Jose Chapter California Society of CPAAs, Past President and Director
Past or present member of the Estate Planning Council, Banker's Relations Committee, Chairman of Credit Grantors Committee, Chairman of the Real Estate Committee, San Jose Chapter of the California Society of Certified Public Accountants and AICPA

Community Activities

Current Service:

Santa Clara University, Board of Fellows, 1996 to present
Board of Trustees, Presentation High School
Sisters of the Holy Names, Board of Advisors and Investment Committee, 1993 to 2007
Bellarmine College Preparatory, Men's Club, President 2005

Past Service: 

Achieve, Board of Directors and Treasurer, 1990 to 2001
School board for St. Mary's Parish, Vice President, 1985 to 1988 and 1994 to 1997
O'Connor Hospital Foundation, Treasurer/Executive Committee, 1997 to 1998
Los Gatos Community Foundation, Grants Committee, 1997 to 1999
YMCA Board of Managers
Kiwanis
Toastmasters International