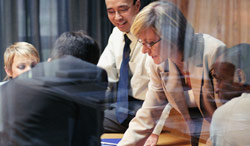 Our Firm
Management Team
Thomas Wagstaff
twagstaff@ppandco.com
Mr. Wagstaff is a principal with Financial Planning Consultants, LLC, which along with its strategic alliances, Legacy Capital and Hillis Financial Services, provides consulting and investment management services to individuals. In addition to being a CPA Tom holds both Life Insurance and Securities licenses (Series 63 and 7).
Tom obtained his CPA credential in 1982, having joined PP&Co in 1980. He has worked on numerous projects for clients in a variety of industries, including the implementation of tax planning strategies, compensation planning and incentive stock option planning. In addition, he lectures extensively on real estate and options strategies and provides presentations and training sessions on income taxation to industry and professional organizations. Tom is also responsible for guiding the firm's human resources department.
Tom is currently a member of the California CPA Society and the American Institute of Certified Public Accountants. He Has a Bachelor of Arts degree in Political Science from the University of California, Santa Cruz, a Bachelor of Science degree in Accounting from San Jose State University and he received his Masters in Business Administration in 1980 also from San Jose State University.
Services

Tax partner since 1994
Presentations and training sessions on income taxation to industry and professional organizations
Lectured extensively on real estate and options strategies
Director of PP&Co's Human Resources
Personal financial and estate planning

Professional Affiliations

American Institute of Certified Public Accountants
California Society of Certified Public Accountants

Education & Professional License

San Jose State University Bachelor of Science in Accounting
1980 Masters in Business Administration, 1980
University of California, Santa Cruz Bachelor of Arts in Political Science, 1976
Certified Public Accountant, State of California, 1982
Life Agent
Securities License (Series 63 and 7), securities registrations held with NFP