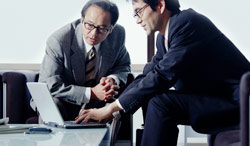 Resource Center
FAQs
What is Personal Financial Planning?
Personal Financial Planning is the development and implementation of a total, coordinated plan for pursuing one's overall financial objectives-a process of determining whether and how an individual can meet life goals through proper management of financial resources.
Financial planning is, indeed, a process-not a prepackaged product. While it may result in the recommendation and use of a product, the role of the financial planner is not that of an order taker who accedes to the request for a $1 million life insurance policy, for example, to satisfy all the client's needs. Rather, it is a process for constructing complete, comprehensive plans dealing with issues of concern for the client. It is not the range of concerns, but the process by which the planner addresses these concerns that makes a financial planner truly competent.
Why do people need personal financial planning services?
With little or no exposure to solid decision-making models or formal training, many individuals do not have the appropriate skills in making informed, systematic decisions about their own finances.
The goal of consultation in the financial planning process is to refine the client's decision-making model. This model establishes clear, realistic, client-identified needs and objectives as well as an efficient relationship between those objectives and actual financial decisions. Through the consultation process, clients can make appropriate decisions in the context of a strategic, long term planning environment.
The consultative process also helps clarify and address internal and external barriers and obstacles, such as systematic and unsystematic risk, to facilitate the flow of information.
Why don't clients plan?
Although financial planning is one of the most important tasks individuals can undertake, there are many reasons why they do not. Some feel they don't have sufficient income or assets to warrant planning, or they believe their affairs are already in good order. Others find considerations of events such as death, disability, unemployment, or property loss unpleasant. Still others may be deterred by the high cost of planning services, or fall victim to procrastination.
What are the "personal costs" for not planning?
Costs incurred for not planning far outweigh the effort, inconvenience, or expense of implementing a sound personal financial plan. Failure to plan leaves individuals unprotected or inadequately protected in the event of personal catastrophes such as death, disability, serious illness, automobile accident, prolonged unemployment, or similar risks. There may not be sufficient money set aside for education or retirement.
Failure to plan can result in higher than necessary income, estate, or gift taxation. Without a plan, issues such as dividing up an estate can cause higher taxes and settlement costs and lead to disputes among beneficiaries. Most importantly, failure to plan can prevent individuals from meeting their own objectives in life.
For more information about Financial Planning Consultants, LLC, please contact a principal or Ann Wright at (408) 287-7911 or by email at
awright@fpcllc.com
Initially, we will work with you to determine your concerns, goals, and risk tolerance- essentially your overall financial profile (Quantitative as well as Qualitative). This fact-finding enables us to design an investment approach that is suitable for your level of risk and financial goals. Together, we will monitor the progress of the strategy employed and make the necessary modifications as circumstances impacting your financial strategy change. And together we will strive to make your financial goals a reality.